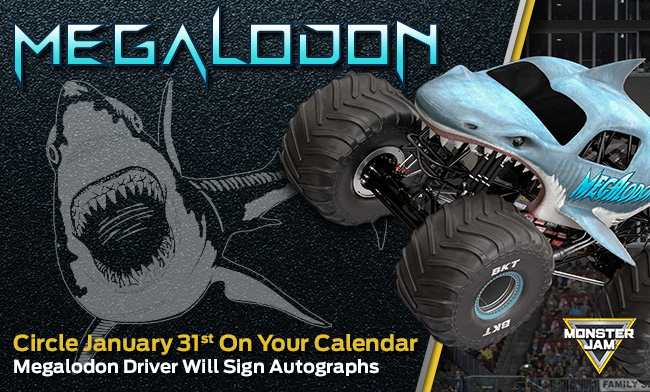 ---
It's the event you can't miss at Gator Ford. On Thursday, Jan. 31, 2019, from 3 p.m. to 7 p.m., Gator Ford is having a monster of an event: The Gator Ford Monster Truck Event.
And The Megalodon will be here. Stop by. [Alex Blackwell, Justin Sipes, Jack Brown, Austin Minton or Cory Rummell] will be here signing autographs. It'll be an afternoon full of fun anf family entertainment. While you're here, browse our inventory. You'll be amazed at our low prices.
Don't forget! Meet the Megalodon on Thursday, January 31, from 3 p.m. to 7 p.m.
– only at Gator Ford: The Big Ford Store On I-4.
---
Gator Ford
11780 Tampa Gateway Blvd Seffner, FL 33584
Sales: (813) 321-3281
Mon-Fri 8:30 - 7 | Sat 8:30 - 6 | Sun 12 - 5